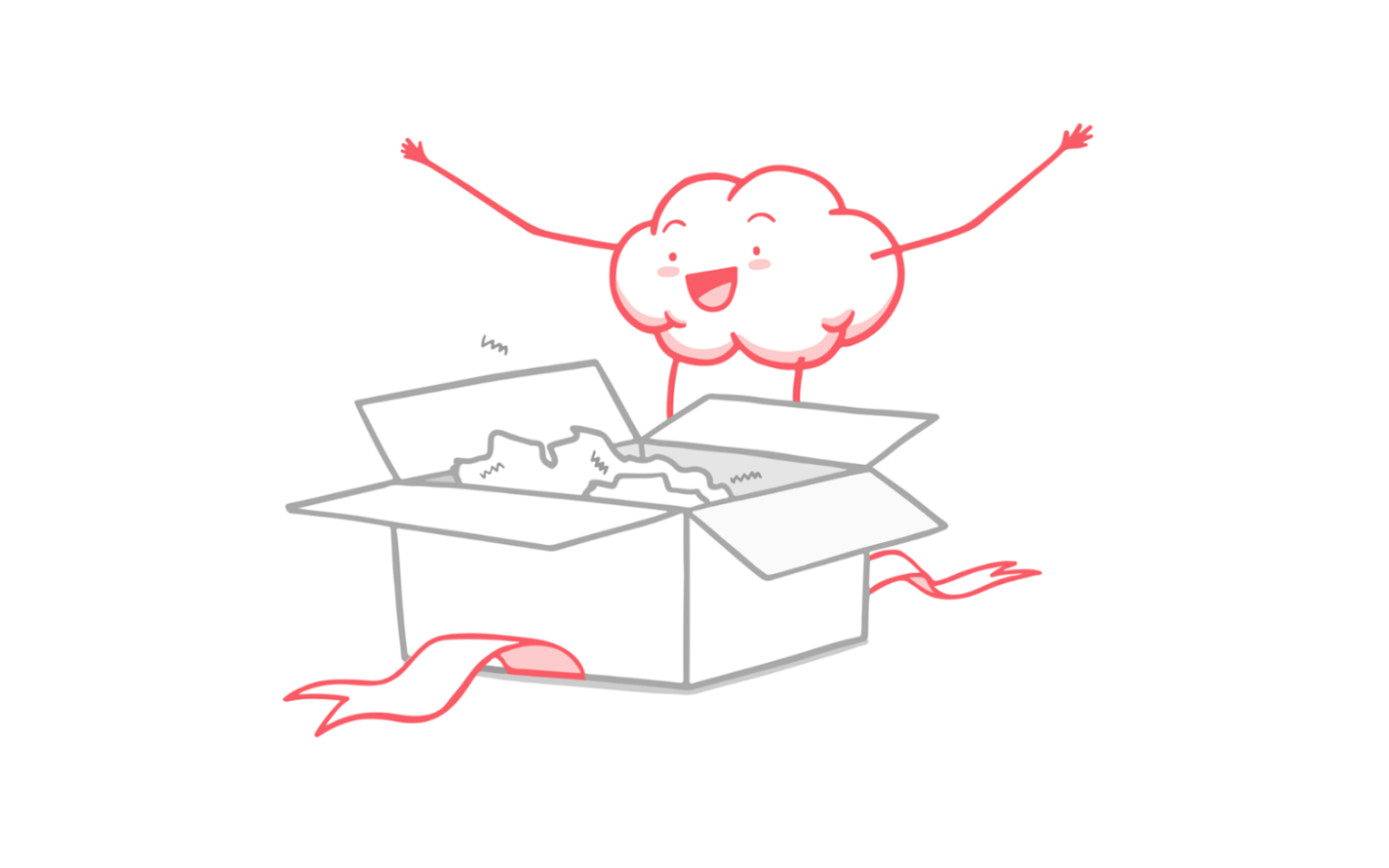 Fields
Fields allow you to track additional information about items. You can create a field for anything that's important to your workflow – for example, priority, due date, status, ownership, and much more. It's a great way to segment and categorize items in a workspace.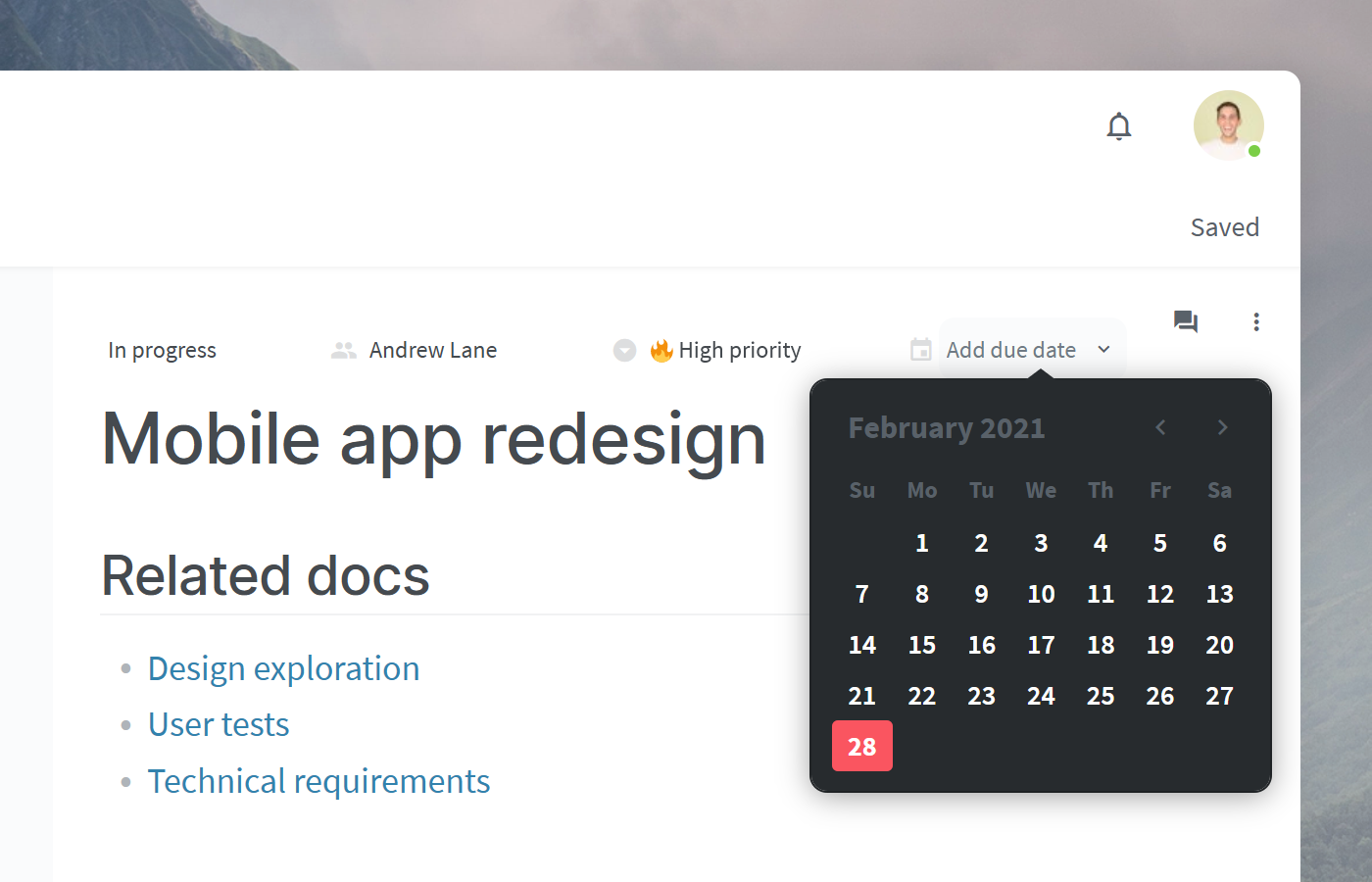 There are four main types you can choose from:
Single select: Creates a drop-down list of options that can be selected one at a time.

Multiple select: Creates a drop-down list that allows you to select multiple options.

Date: Allows you to set a date, such as a deadline.

Team member: Allows you to assign an item to a member of your team, sending them a notification.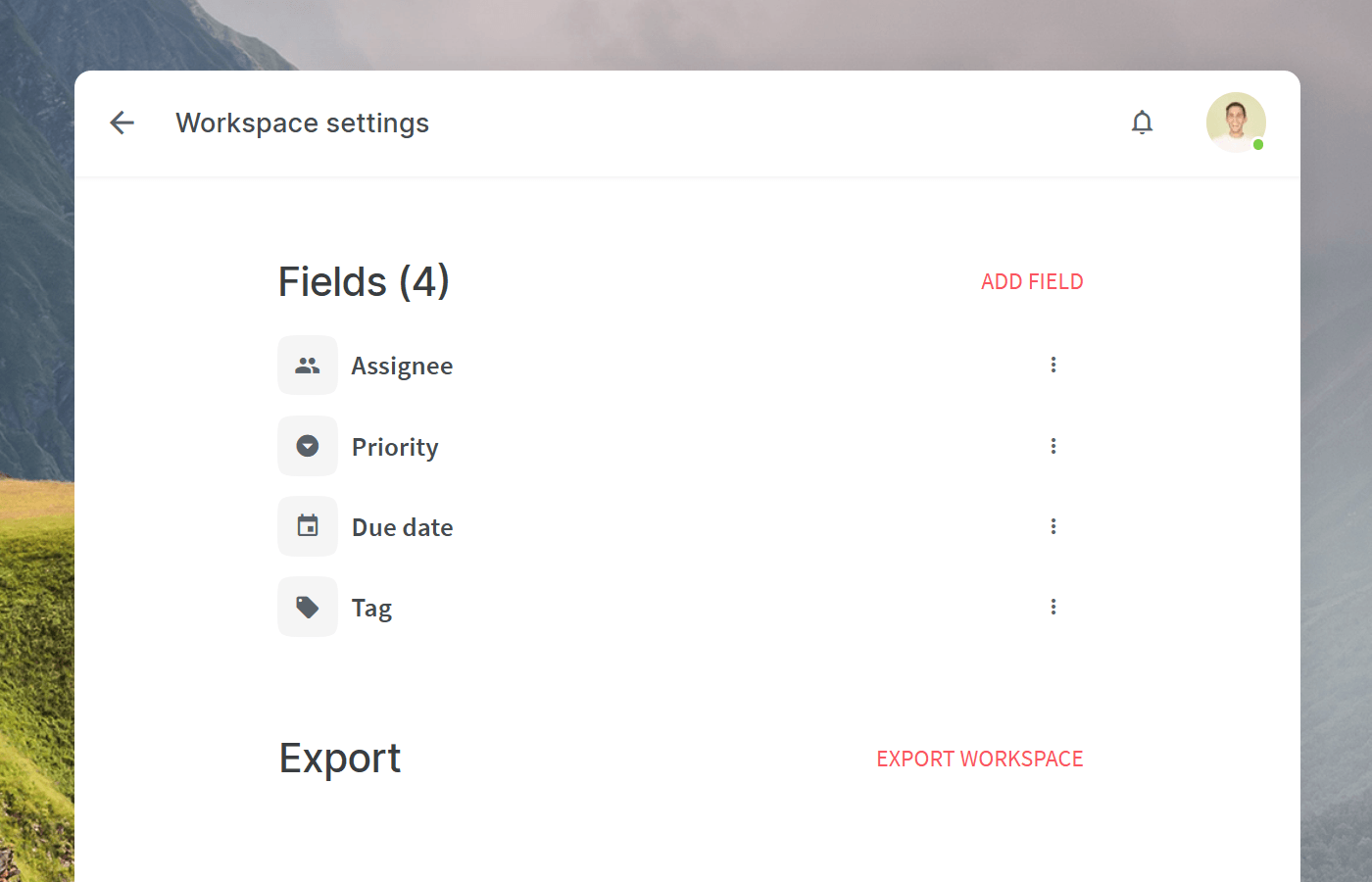 You can search, sort, and filter your work based on any custom field you have set up. Want to display all of your team's high-priority projects or all tasks assigned to you? Simply type + into the search bar and select the necessary filter. You can combine as many filters as you need.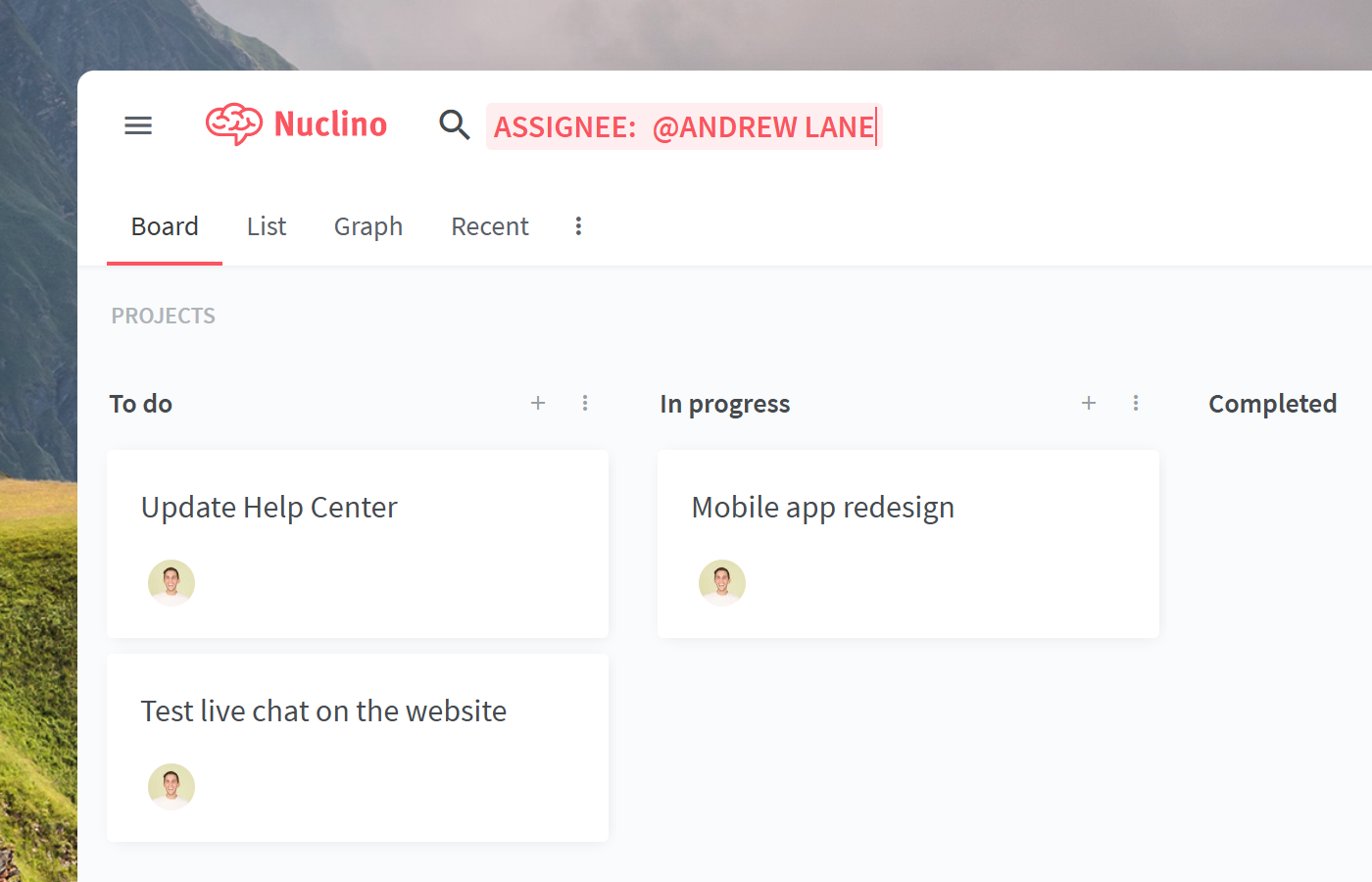 There are many ways in which fields can facilitate the workflows of different teams:
Engineering teams can track issues, creating fields for the operating system, browser, and priority.

Recruiting teams can set up an applicant pipeline, adding fields for the role, team, years of experience, and starting date.

Marketing teams can create an editorial calendar with fields for the content type, stage, publication date, and author.
Learn more about how to configure and use fields in our Help Center.
Note: If you have been using the Item member feature, you will notice that it has been converted into the Team member field. No action is required from your side.
Miro integration
Miro is a popular online whiteboard tool that enables distributed teams to collaborate visually, from brainstorming with digital sticky notes to creating flowcharts and diagrams.
Now, Miro boards can be easily embedded into any Nuclino item. Simply paste a shared Miro link into an empty paragraph and it will automatically create an interactive embed.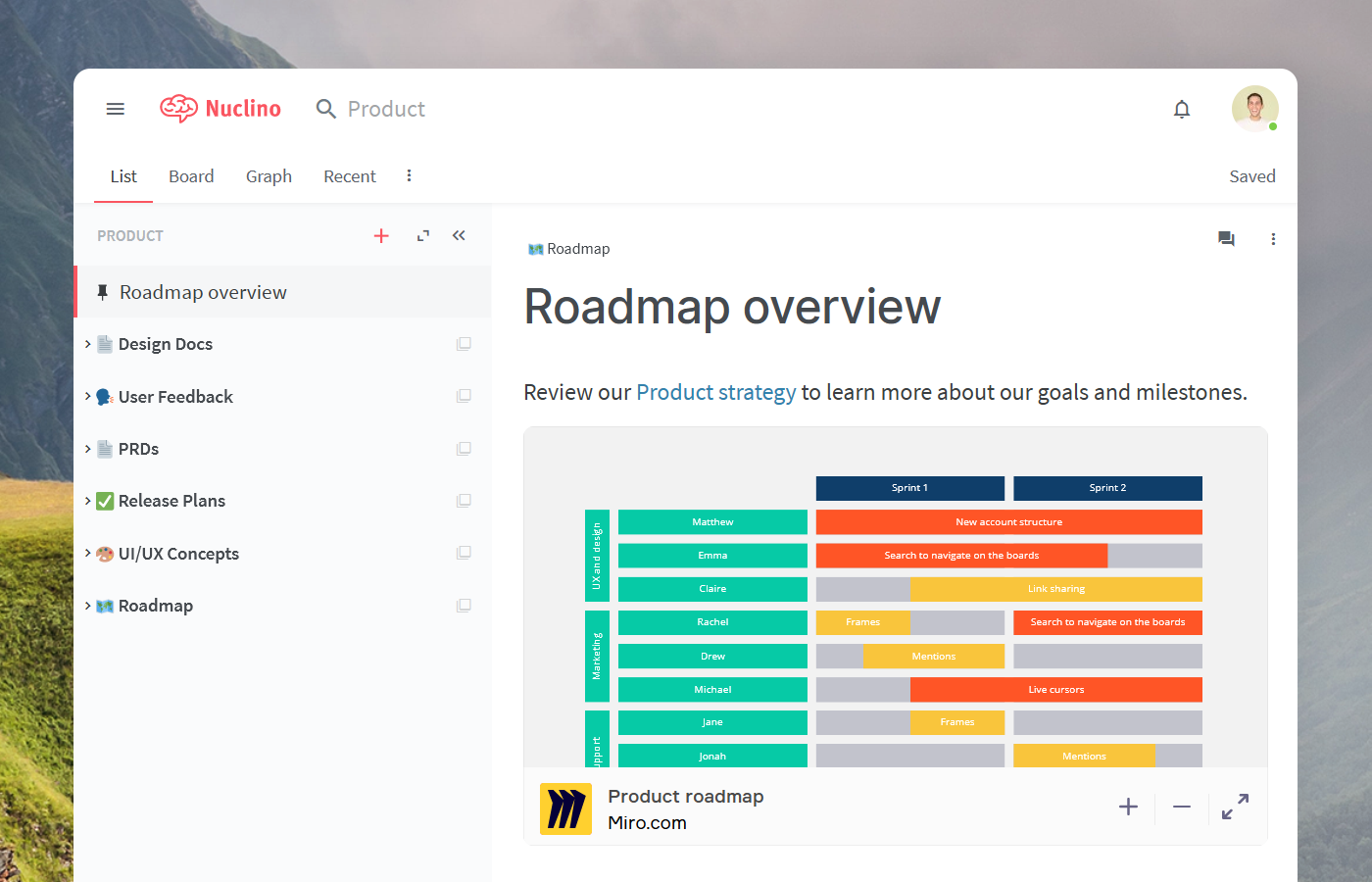 Other small but impactful changes
We have boosted the performance of workspaces containing large amounts of content, significantly improving the speed of navigating between items and collections.

The Markdown export now works considerably faster, especially for very large items.

Importing content from Confluence now better preserves its original structure. We have released a series of improvements, including better handling of line breaks and support for emojis and additional types of content from the older Confluence versions.

Guests can no longer see the email addresses of other team members.

Now you can easily create new collections in the desktop app using the Ctrl/Cmd + Shift + N keyboard shortcut.