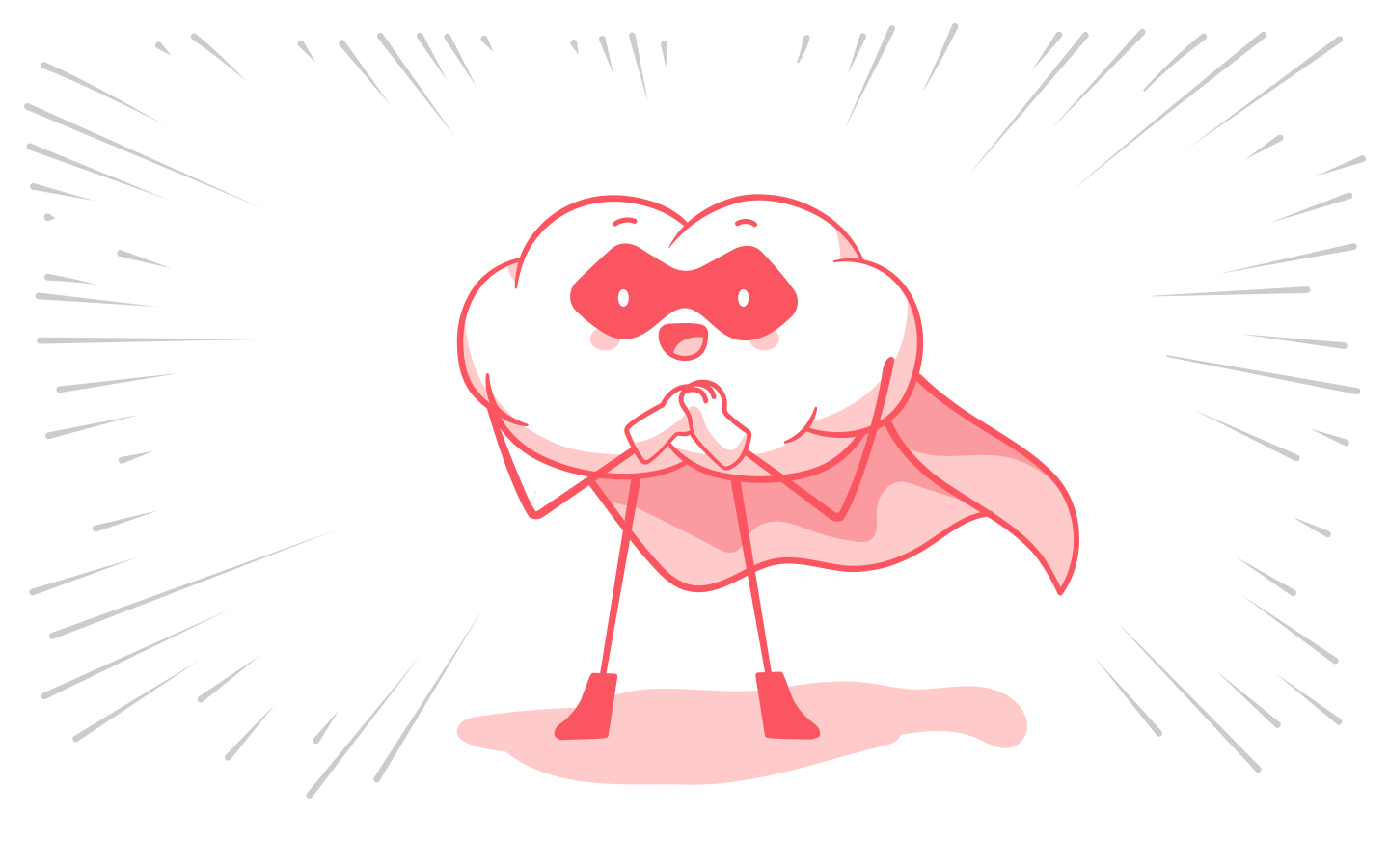 "Computers are incredibly fast, accurate, and stupid; humans are incredibly slow, inaccurate, and brilliant; together they are powerful beyond imagination."

— Albert Einstein
It's no secret that AI is all the rage these days. It's evolving at a breakneck pace and can feel both magical and chaotic at times, with plenty of kinks that still need to be worked out. But there's no denying its immense potential to transform the way we work, and enabling our users to take advantage of it was a no-brainer (see what we did there?).
Today, we're excited to finally introduce you to your team's new AI helper!
Meet Sidekick
Sidekick is your AI-powered teammate whose sole purpose is to make your life easier. It's not just a glorified spell-checker — it's a powerhouse AI assistant built to tackle all kinds of busy work for you. It can take care of all the tedious aspects of writing, editing, and organizing content, freeing up your mental bandwidth for the big-picture ideas that matter most.
What Sidekick can help you with
Here are just a few ways Sidekick can lend a hand:
Generating ideas: Feeling stuck or uninspired? Let Sidekick spur your creativity with a list of unique ideas on any topic.

Drafting content: Whether it's a blog post, an email, or a report, Sidekick can help you write it, so you don't have to start from scratch.

Editing and proofreading: Sidekick is your hawk-eyed editor that catches any spelling, grammar, or punctuation mistakes that may have slipped through.

Improving your writing: Sidekick can provide insights on how to make your writing more impactful, clear, and engaging, suggesting improvements in tone, structure, and style.

Summarizing: Instead of sifting through long or messy notes, let Sidekick pull out the most important points and action items, providing you with a concise summary.
...and much more!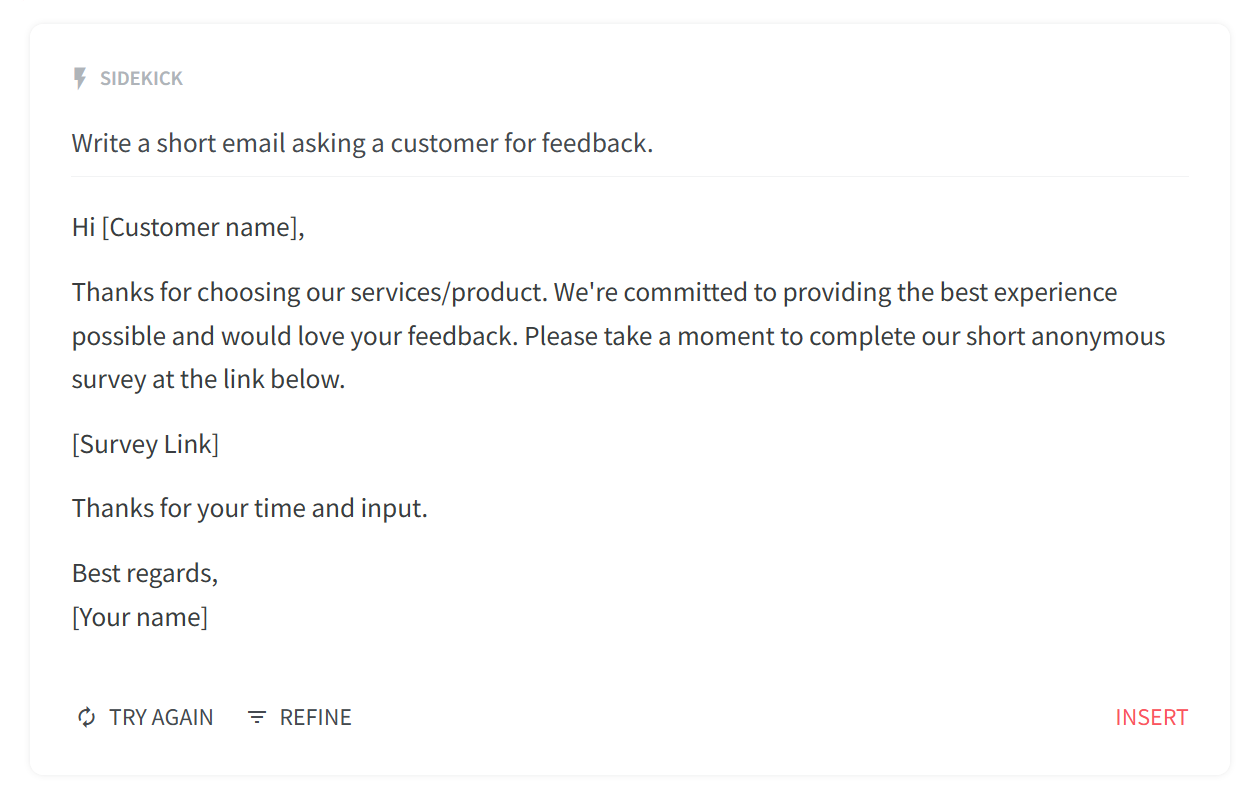 How Sidekick works
There are two main ways to use Sidekick — to generate new ideas or content or to edit existing text. To have Sidekick write something new for you, simply type /sidekick and choose a command.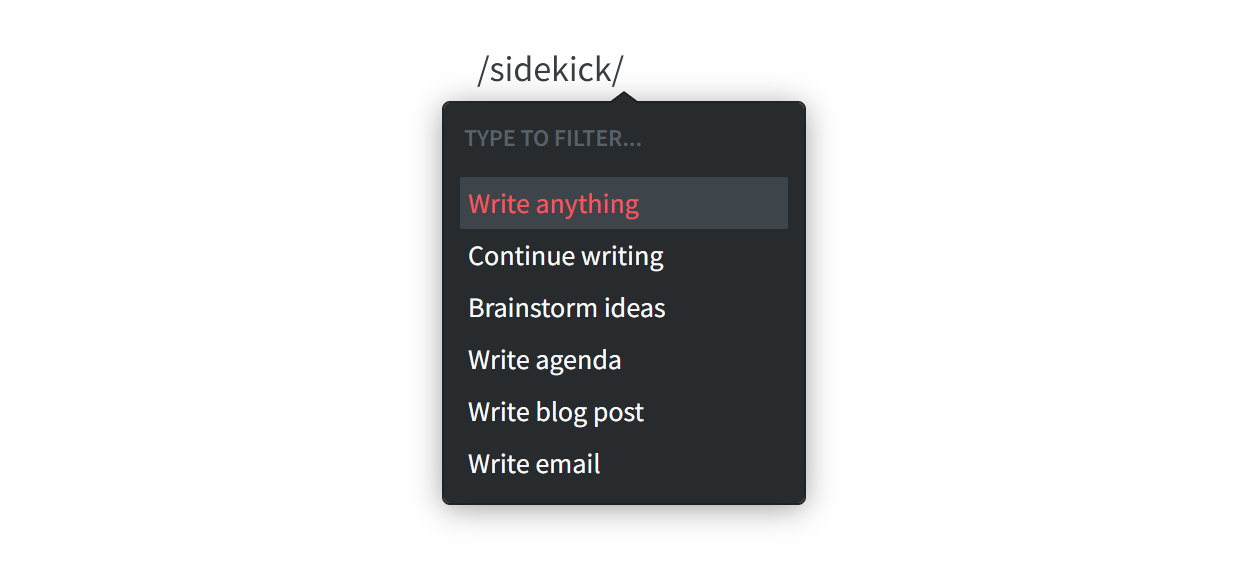 To have Sidekick proofread, summarize, translate, or otherwise edit existing text, select it and choose Sidekick from the menu.
Not satisfied with the initial result? Just ask Sidekick to try again or give follow-up prompts with more precise instructions. Learn more about using Sidekick.
Get started with Sidekick
The full version of Sidekick is available as an optional paid add-on for teams on the Standard and Premium plans, but every Nuclino user is welcome to try Sidekick for free with a limited number of requests. No waitlists or private previews — take it for a spin today!
As we continue to improve and expand Sidekick's capabilities, we would also love to get your feedback. Have a suggestion for a new feature? Something not working quite right? Drop us a line, we'd love to hear from you!